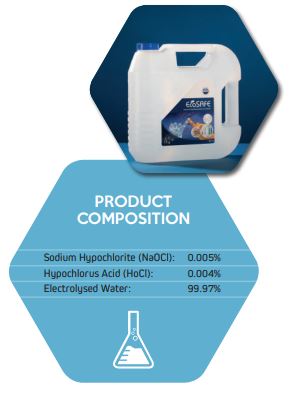 Ecosafe Manufactures HOCl in purest form in an EPA, US-FDA Registered & GMP Complaint Facility
EcoSafe is a versatile solution that is 99.999% effective against all Microorganisms, Broad spectrum antimicrobial, Kills 99.99% of all Bacteria, Viruses, Fungi, Spores & Biofilm.
Neutral pH 6.0-7.0, Free Available Chlorine, 100-130 ppm.
80-100 times more effective than Alcohol & Bleach with the same concentration.
Safe to be used in the Presence of Humans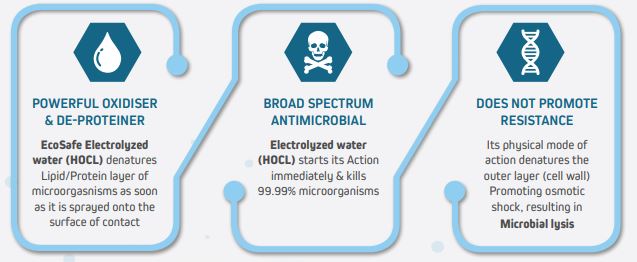 Formulated with

USFDA approved

patented Microcyn technology,

EcoSAFE ®

is a 100% natural disinfectant containing Neutralized Electrolyzed Water & Natural Acid- Hypochlorous Acid. It is the only sanitizing solution designed and recommended to be used in the presence of Humans – safe to exposing the public to the solution for consistent cleaning and disinfecting.
It is

designed to be used as a spray

in aerosol format, fogging fumigant, and humidifier to areas and environments which are suspected to serve as a breeding ground for the spread of infectious disease.
| | |
| --- | --- |
| Sodium Chloride | 0.023% |
| Sodium Hypochlorite | 0.006% |
| Hypochlorous Acid | 0.004% |
| Other Ingredients | 99.97% |
A single-use solution
Meets & exceeds all sorts of Sanitizing, Disinfecting & Fumigation needs
100% SAFE,
Can safely be used around people & poses no risk to the environment
Rinse-free and Foamless technology
Free from Alcohol, Fragrance, Chemicals, Colorants & Preservatives
Non- Toxic Non- Irritating Non- Corrosive Non- Hazardous Non- Carcinogenic
Broad-Spectrum Antimicrobial
Kills resistant strains such as H7N9, N5N1, MRSA, S.Aureus & E. Coli
Green-Technology
Requires no special handling or disposal
Bleach & Quat Free
Does not fall under the list of hazardous products
On EPA List N
Disinfectants for use against SARS-CoV-2
100% Biodegradeable
Leaves no traces of any harmful surfactants
Hypoallergenic
Gentle on Skin
Air Drying-No Wiping
The spray droplets rapidly air-dry leaving no stain on any areas of use
GLOBAL APPROVALS &
ACCREDITATIONS
USFDA Approved Technology
Disinfectants for use against SARS-CoV-2 (COVID19)
Recommended in CDC guidelines for Disinfection & Sterilization in Healthcare Facilities
Entered TGA-ARTG as registered, Hospital-grade disinfectant that kills Bacteria & Viruses, including SARS Cov-2 & Noro-viruses (Gastro) in 30 seconds
Mentioned in Essential Medicine List (EML) of WHO
Approved by USFDA as a food Grade sanitizer fit for use in food safety, food produce, seafood, meat & poultry sanitation (Use USFDA logo again)
Proven to be 100 % safe by Who for human health & environment (Use WHO Logo again)
STEP 1
Powerful Oxidiser & De-proteiner EcoSafe Electrolyzed water (Hocl) denatures Lipid/Protein layer of microorgasnisms as soon as it is sprayed onto the surface of contact
STEP 2
Broad Spectrum Antimicrobial Electrolyzed water (Hocl) starts its Action immediately & kills 99.99% microorganisms
STEP 3
Does not promote resistance Its physical mode of action denatures the outer layer (cell wall) Promoting osmotic shock, resulting in Microbial lysis
EcoSAFE ® is the most advanced infection control and can be used in multiple fields of application.
Immediate & significant reduction of harmful viruses and bacteria, as well as odor elimination, is achieved by fumigating key areas throughout any facility. The rapid and efficient application ensures no interruption to day-to-day operations. EFFICIENT – SAFE – EFFECTIVE. The Microcyn® Technology is backed globally by numerous international accreditations and endorsements. EcoSafe kills 99.9999% of viruses and bacteria in 30 seconds, including antibiotic-resistant MRSA, SARS-CoV-2 (COVID-19), and Noroviruses.
Superoxidized Hypochlorous Acid is more efficient at killing pathogens, it eradicates all bacteria, mycobacterium, spores, fungi, viruses in a matter of seconds. It disinfects 200-300 times better than bleach. Also since it is stabilized HOCl, it has no charge, is 100% safe & has a relatively low molecular weight, which is a major plus in comparison to other chlorine-based disinfectants since it penetrates the protection barrier around the germs easily.